For English > REPORT(English)
Regarding the description of Pearl Identification Report
Our Pearl Identification Report described accurately and plainly gets high evaluation from the person who loves beauty of the pearl as well as the pearl industry.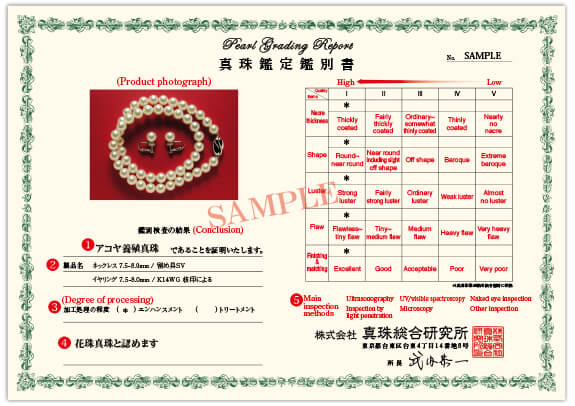 Regarding the description of Pearl Identification Report

Description of article(s), Size, etc

ネックレス:Necklace
リング:Ring
ペンダント:Pendant
イヤリング:Earring
ピアス:Pierce
ブローチ:Brooch

Provision with respect to disclosure of the pearl

エンハンスメント(Enhancement)

Methods of bleaching and tinting in natural way to extract latent beauty of the pearl.

トリートメント(Treatment)

Methods to change color and appearance of the pearlchemically and / or physically in order to move toward the nature of the pearl.

Provision with respect to disclosure of the pearl

<Example> ︎花珠真珠と認めます: "Hana-dama" quality pearl

Ultrasonography

The thickness of pearl layer is measured by using the supersonic. We can judge the mother of pearl with the thickness of the pearl layer.

UV/visible spectroscopy

The pearl's color is resolved into the wavelength and measured with the special equipment. Accordingly, we can judge if the pearl is dyed. This is also used for judging Black TAHITI pearl.

Naked eye inspection

Appraisal of flaws on the pearl surface and uniformity of a strandis made by visual judgment.

Inspection by light penetration

With strong light penetrating through a pearl we can observe the inside and judge whether blue pigment is natural or dyed.

Microscopy

By observing pearl surface pattern we judge if it is a genuine or a fake, at the same time if it is dyed.

Other inspections

Additionally, by fluorescence check and an X-ray check we can judge mother of pearl and pearl with or without nucleus.